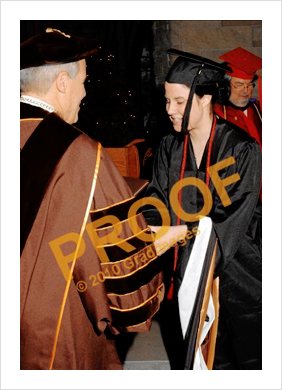 Posting this here because, while it's unlikely I'll spring for the non-watermarked versions, this is the only visual evidence I have that I actually got across the stage on Sunday. I'm wearing Sigma Tau Delta honor cords and my hood (which will be draped over my shoulders five seconds after this shot is taken) is draped over my left arm. I don't remember the guy whose hand I'm shaking. Apparently he's a part of the English Department, but I've never seen him before. I'm not going to lie and tell you that the hats and fancy robes aren't part of the reason I want to go on to get my doctorate.
I have my Japanese final at 10:30 tomorrow morning. After that, I'm officially done with graduate school. I'm going round to my graduate project supervisor's office to say goodbye and I'll be back after the first of the year to pick up my diploma, but that's pretty much it. I feel more "grown up" now than I ever have before.
I should see a doctor about that.